Get to Know the 1st Year Clinical Psychology Cohort!
Alexandra Piedra is from Miami, Florida. Her clinical and research interests focus on anxiety disorders in children and is advised by Dr. Amy Przeworski. In her spare time, Alexandra likes to bake and watch stand-up comedy, usually both at the same time.
Kathy Benhamou is from Queens, New York. Her primary research interest is in PTSD treatment outcomes and processes. Kathy is most interested in investigating empirically supported treatments for PTSD, and specifically, understanding for whom these treatments work best and studying underlying mechanisms of improvement with the intention of optimizing care. Additionally, she interested in the dissemination and implementation of evidence-based practices for PTSD. Her adviser in the program is Dr. Norah Feeny. In her spare time, Kathy likes to read, draw, hike, explore new places, and go to yoga. She is also likely the most avid Harry Potter fan you'll ever meet and is an amateur archer! 
Liliana Varman is from Houston, Texas. She will be working in Dr. Jim Overholser's lab. Her research interests focus primarily on risk factors for suicide in adult populations. In her free time, Liliana enjoys attending theater and live music performances. 
Chelsea Day is from Cleveland, Ohio. Her main research interests focus on the etiology, symptom expression, and maintenance factors of internalizing disorders in children with disabilities (i.e., learning disabilities, developmental delays, etc.). Chelsea is co-mentored in the program by Dr. Amy Przeworski and Dr. Betsy Short. In her spare time, Chelsea likes to travel whenever and wherever possible! She has been to 14 countries in the past few years, most recently Iceland.
Samuel Seidman is from New Jersey. His area of interest is in depression, adolescence, memory, executive functioning, and other neurocognitive mechanisms. In the program, he is advised by Dr. Arin Connell. In his spare time, Sam likes to attend the New York Comic Con, having gone seven years in a row!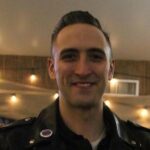 ---
Meet the 2018 Graduating Cohort
David Bradley, whose dissertation focused on atheists and examined the relationship between perceived experiences of antiatheist discrimination and mental health. He is currently completing his internship at the Louis Stokes Cleveland VA Medical Center. In August, David will be starting a tenure-track faculty position at Pittsburg State University, in Pittsburg, KS.
Danielle Raymond Broxon, whose dissertation looked at overgeneral memory and its relationship to hopelessness in depressed emerging adults. She is currently completing her internship at Bowling Green State University and recently accepted a senior staff position at Texas A&M's Counseling Center.
Mark Burton, whose dissertation was a pilot trial of an early intervention to prevent PTSD in injured children and families. He is on internship at the Charleston Consortium Clinical Psychology Internship Training Program and will complete a postdoctoral position at Emory University in the Veterans Program, which is an intensive outpatient treatment program for PTSD. Mark will be splitting his time between clinical and research responsibilities and he hopes to build a research profile and obtain a faculty position after this postdoctoral position.
Hannah McKillop, whose dissertation investigated whether there are subtypes or profiles of pediatric chronic pain patients. She worked with the Cleveland Clinic Children's Pediatric Pain Rehabilitation Program and found four profiles in a referred sample with differing characteristics that can hopefully inform individualization of treatment. Hannah is currently on internship in the Pediatric Psychology Track at Nationwide Children's Hospital. She will be starting a postdoctoral fellowship at Akron Children's Hospital in Pediatric Psychology in September and is hoping for a career as a pediatric psychologist working with children with chronic medical illnesses.
Jennifer Birnkrant, who developed a novel attitudinal self-report measure of parents' and teachers' attitudes toward trans youth (Attitudes Toward Trans Youth Scale, ATTYS). She conducted exploratory factor analysis and reported on initial validation and psychometrics. Jennifer is currently on internship at Lurie Children's Hospital of Chicago. After internship, she will be completing a one-year clinical postdoctoral fellowship at Nationwide Children's in Columbus in Primary Care and Adolescent Medicine.
Welcoming a new director and coordinators to the CWRU Psychology Clinic!
Dr. Alissa Huth-Bocks, a clinical psychologist with a primary appointment in pediatrics through CWRU's School of Medicine, will be taking over as the clinic director beginning Summer 2018. Dr. Norah Feeny, faculty and the current director of clinical training in the department of psychological sciences, diligently and passionately served as the clinic director for the past 12 years. She played an integral role in making therapeutic and assessment services accessible to countless members of the greater Cleveland community and in providing invaluable training to numerous students in the clinical psychology program. Although the clinic will miss Dr. Feeny as director, we are equally excited to welcome Dr. Huth-Bocks as the new director!
Further, Allison Baier, a rising 3rd year clinical psychology graduate student, and Sarah Danzo, a rising 4th year clinical psychology graduate student, will be taking over as the adult and child clinic coordinators, respectively. The role of clinic coordinator is an integral one in which students guide potential clients through the intake and beginning stages of the therapeutic process. The clinic is excited to welcome Allison and Sarah as the new coordinators as well!